Persuasion profiling: conversie-optimalisatie door overtuigingsprincipes?
Deze blog over persuasion profling verscheen eerder op www.emerce.nl
Bron: enterprisenation
Persuasion profiling is de nieuwe hype in onlinemarketingland. Het uitgangspunt is dat je klanten gevoelig zijn voor specifieke persuasion principes. Ik ben misschien gevoelig voor autoriteit, terwijl jij meer gevoelig bent voor schaarste. Het grote voordeel van persuasion profiling is dat je niet meer op groepsniveau target (iedereen krijgt het autoriteitsprincipe) maar juist op individueel niveau, ofwel ik krijg wat anders te zien dan jij. Wanneer je kunt voorspellen voor welk persuasief principe een specifieke bezoeker gevoelig is, verhoog je de kans op conversie.
Persuasion profiling lijkt dus een veelbelovende manier om het effect van conversie-optimalisatie inspanningen te maximaliseren. Maar is deze verwachting wel terecht? En moet je als organisatie ook direct starten met persuasion profiling? Ik denk van niet. Of meer genuanceerd, ik denk dat het effect van persuasion profiling afhankelijk is van vier factoren.
1. Behavioral stability.
Een belangrijke aanname van persuasion profiling is dat de mate van gevoeligheid voor een persuasion principe stabiel is over tijd. Recent onderzoek bevestigt dit inderdaad. Maar sociaal wetenschappelijk onderzoek laat ook zien dat persuasion principes verschillen per type gedrag en waarschijnlijk ook per type product. Wanneer iemand vandaag gevoelig is voor autoriteit, dan zal dat volgende week ook wel zo zijn. Maar wanneer ik door een autoriteitsclaim word overtuigd om me in te schrijven voor een nieuwsbrief, betekent dat dan ook dat ik door een autoriteitsclaim word overtuigd om een product te kopen?
Daar komt bij dat het doelgedrag 'converteren' vaak uit meerdere kleine gedragsstappen bestaat (bijvoorbeeld productselectie, klikken op button en gegevens invullen; ofwel de customer journey). Elke gedragsstap heeft specifieke determinanten (redenen om de stap te zetten). Je zult dus waarschijnlijk voor elke gedragsstap een andere persuasion techniek moeten inzetten. Het is dan ook erg belangrijk om van te voren goed in kaart te brengen welke persuasion technieken je wanneer in de customer journey moet inzetten.
2. Persuasion technieken.
Welke technieken ga je wanneer inzetten bij persuasion profiling? Cialdini's principes zijn erg populair en worden vaak toegepast bij persuasion profiling. Er zijn echter veel meer persuasion principes. Bovendien, en naar mijn idee nog belangrijker, de mate van persuasiviteit van een principe is sterk afhankelijk van de manier waarop een principe wordt toegepast.
Neem het socialproof principe (het inzetten van sociale normen). Dit wordt vaak toegepast ('velen gingen u dus voor'). Er bestaan meerdere vormen van socialproof:
injunctieve normen; "Jij vindt gezond eten toch ook belangrijk?"
descriptieve normen; 'Veel mensen vinden gezond eten ook belangrijk.'
Onderzoek laat zien dat het voor de effectiviteit uitmaakt wélke techniek je op welke manier inzet bij welk gedrag. Sociale normen kun je bijvoorbeeld inzetten om mensen te overtuigen om een keuze te maken maar ook om mensen gerust te stellen nádat ze een keuze gemaakt hebben (self-efficacy verhogen). De manier waarop en de inhoud van de 'sociale norm' boodschap is dus afhankelijk van doel en type gedrag. Kortom, het succes van persuasion profiling hangt dus ook af van het correct gebruik en toepassing van de persuasion techniek.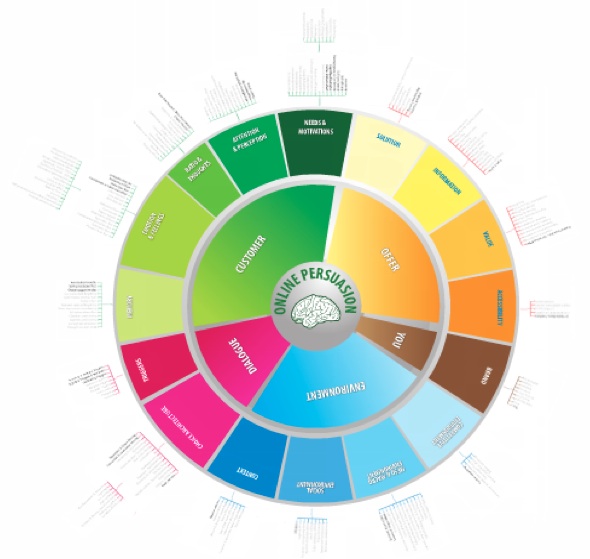 Bron: wheelofpersuasion
3. Context.
We onderschatten vaak het effect van de context wanneer we gedrag proberen te voorspellen en te verklaren. En de context waarbinnen mensen beslissingen nemen (emoties, het weer, frequentie bezoek, cognitive fluency van de site) spelen vaak een grotere rol dan we denken. Persuasion profiling houdt, voor zover ik kan zien, weinig rekening met deze context. Stel, een spaarbank heeft als doel mensen te overtuigen hun spaargeld over te zetten van hun eigen bank naar de spaarbank. Ze bieden een iets aantrekkelijkere rente (zeg twee procent ten opzichte van 1,8 procent bij een standaard grootbank). Je kunt hier persuasion profiling toepassen om mensen te verleiden om naar jou over te stappen. We weten echter dat de context (het rentepercentage) ook een belangrijke rol speelt. Naast persuasion profiling kun je hier ook targetten op bestaande klanten (die je wilt behouden) versus nieuwe klanten. Bij bestaande klanten maak je bijvoorbeeld 'het gedoe' van overstappen plus de geringe opbrengst van overstappen saillant. Voor nieuwe klanten maak je juist het renteverschil saillant (liefst per bank).
4. Digital maturity.
Is je organisatie al klaar voor persuasion profiling? Wij merken vaak dat eerst de basisprocessen van optimalisatie op orde gebracht moeten worden voordat je optimaal kunt profiteren van persuasion profiling. Denk aan standaardzaken zoals techniek (bijvoorbeeld databronnen koppelen), usability, webdata-analyse, klantonderzoek en A/B testen. Deze basisprocessen geven voeding aan het doel en de inhoud van persuasion profiling. Je leert dan namelijk waar in de klantdialoog je met persuasion profiling moet beginnen, welke technieken je waar moet gaan inzetten en wat de inhoud van de technieken moet zijn (welke sociale bron is bijvoorbeeld relevant?). Je kunt dus pas goed en effectief gaan profiteren wanneer je eerst de basisprocessen op orde hebt.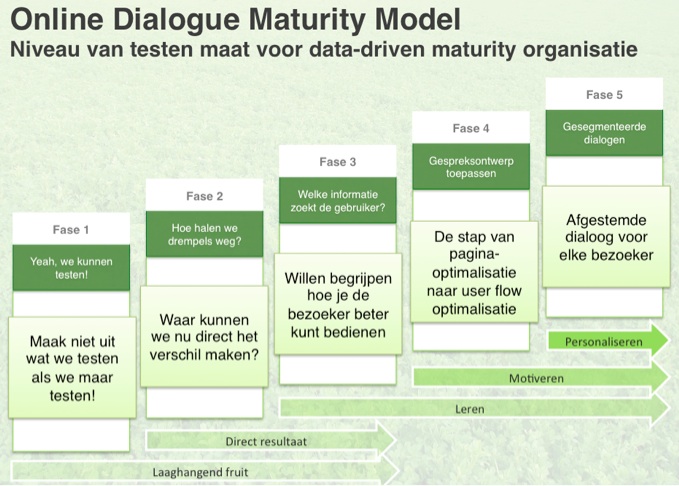 Bron: onlinedialogue
Business case
Wat is dan uiteindelijk het additieve effect van persuasion profiling? Of, in termen van het voorspellen van gedrag: het doel is om gedrag (conversie) zo goed mogelijk te voorspellen aan de hand van persuasion principes/profiles. Maar hoeveel procent van de variantie in gedrag (conversie) wordt verklaard door het correct toepassen van een persuasion profiel? Dit hangt dus af van meerdere factoren. Factoren die niet alleen met de techniek zelf te maken hebben, maar vooral ook met de inhoudelijke toepassing van persuasion technieken.
Conclusie
Persuasion profiling kan een goede en effectieve methode zijn om online gedrag te beïnvloeden. Moet je nu ook direct hiermee starten? Mijn advies is: maak eerst een goede afweging of persuasion profiling echt iets is wat je nu moet toepassen. Neem de volgende aspecten mee in de afweging:
Beschikt je organisatie over genoeg kennis over het gedrag van je klant om te weten waar je profiling in moet zetten?
Beschikt je organisatie over genoeg kennis over het correct toepassen van persuasion  technieken?
Heb je als organisatie al voldoende geleerd over het effect van de context en hoe die toe te passen binnen targeting?
Is je organisatie al 'digitaal volwassen genoeg' voor persuasion profiling?
De kans op succes van persuasion profiling hangt namelijk sterk af van deze elementen. Ben je als organisatie inderdaad klaar voor persuasion profiling, betrek dan vooral professionals in het proces die veel inhoudelijke kennis hebben van persuasion technieken. En ja, dat laatste is inderdaad preken voor eigen parochie:-)